Claim your FREE Tooth!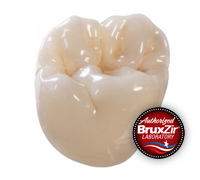 Give us a Try
Send us an impression (conventional or digital) and we'll give you a free BruxZir crown for new accounts. There's no additional costs for model work, mount on articulator, or die trim. Fill out the form to get started.
Free Crown, Free Facts!
BruxZir Solid Zirconia is the #1 prescribed brand of full-contour zirconia in North America
TDS is an authorized BruxZir lab since 2011
TDS made over 10,500 zirconia crowns in 2017
All BruxZir crowns done in-house at TDS